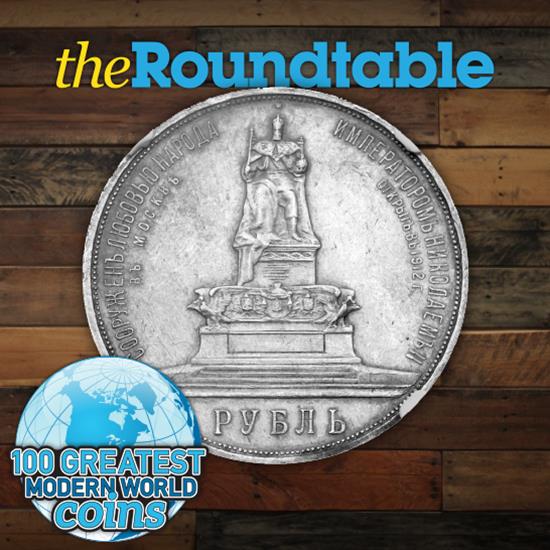 Coins in numismatics that are produced to memorialize a person or event often do so with the intention of the person or event being significant enough for the coins to make a lasting impact. In other words, the coins would survive the events that took place. That is not the case for our next coin in the 100 Greatest Modern World Coins series. Authors Charles Morgan and Hubert Walker take us on a journey with this middle of the road pick in the Whitman Publishing publication as a series of unfortunate events keeps this silver coin from most collectors' hands.
#50 - Russia 1912 Czar Alexander III Memorial Silver Ruble
On May 30, 1912, the monument of Alexander III was unveiled to the public on the grounds of the Cathedral of Christ the Savior. The public monument was said to have cost more than 2 million rubles at the time among a population that was considered peasants. In fact, the Russian empire was made up of at least 80% peasants. However, within six years the statue was destroyed under a new communist government.
As the statue was installed to pay homage to the autocrat that looked to undo most of his father's social reforms, silver ruble coins were struck to honor the dedication of the monument. But while most of the country was poor, it was struck more to be a memento for those Russians that could afford to collect them. The obverse featured a left facing Alexander III while the reverse showcases the monument dedicated to the czar. He would only serve 13 years before he would pass unexpectedly due to kidney disease. Nicholas II, Alexander's son with no training or warning, would then take over the empire.
Designed by and one of the final works of Abraham Avenirovich Griliches, the ruble has been deemed as elusive to the collecting world. One theory explains that many of the coins were surrendered or destroyed over time during the Russian communist rule. Those that have survived have been preserved in a number of conditions. In September of 2008, one sold in auction in a Gem condition for $80,550. Between both PCGS and NGC, only 62 examples of the silver ruble coin have been certified.