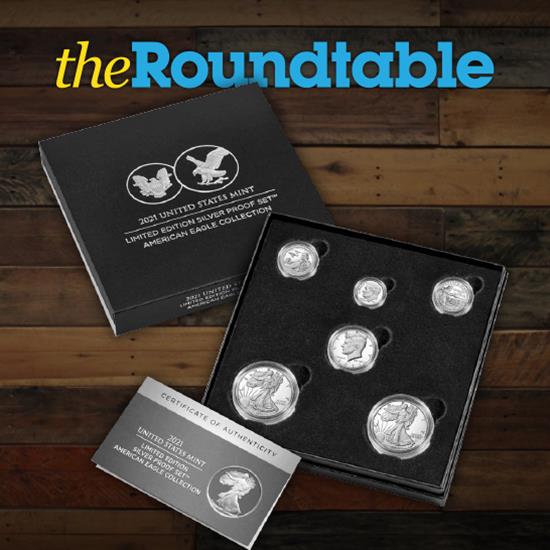 The month of October will kick off with a bang for the numismatic hobby thanks to the United States Mint. Available on the 1st will be the 2021 Limited Edition Silver Proof Set - American Eagle Collection. Yes, that last part is definitely different from previous years.
With the exceptional circumstances of both the American Eagle Programs changing designs in addition to the introduction of a new quarter dollar design due to the end of the America the Beautiful Quarters program, we are witnessing the culmination of all great products happening in the form of this annual set. The set will go on sale October 1st at 12pm EST.
Much like last year's set, the product limit is set at 50,000 with a household limit of one. However, this year only the set will contain not one but TWO Proof American Silver Eagles. The first American Silver Eagle coin to be included will feature the new Eagle Landing design from San Francisco and designated so with the 'S' mint mark on the reverse. The second American Silver Eagle will feature the classic Heraldic Eagle design from West Point and will feature the 'W' mint mark on the reverse.
In addition to the American Silver Eagles, there will be two Silver Proof quarter dollars. The final America the Beautiful quarter was released earlier this year and honors the Tuskegee Airmen National Historic Site. The introduction of the brand new quarter came just months later as it featured George Washington Crossing the Delaware. Both are dated 2021 and featured the Proof finish.
Rounding out the six-coin set is the Kennedy half dollar and the Roosevelt dime. In total, the set will contain 2.876 Troy Ounces of .999 silver! Except for the classic American Silver Eagle from West Point that is featured, all coins will be struck at San Francisco. The coins will come encased in clear plastic capsules and featured in a black presentation case along with a Certificate of Authenticity. They will retail at $235.00.
Source: United States Mint