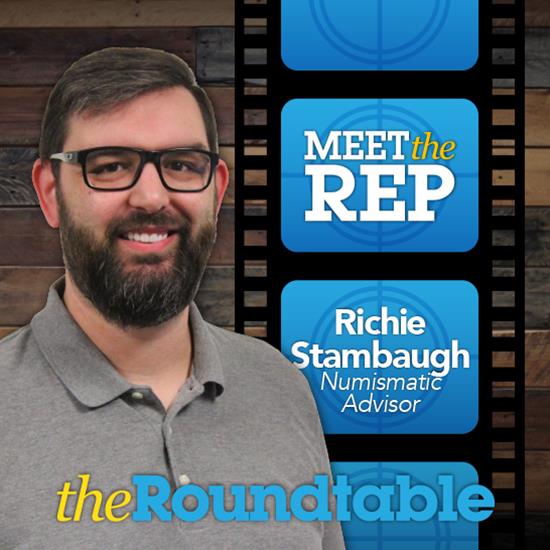 A lot can happen in a year. If this past year and a half has taught us anything, it certainly has been that. However, if you take away how tumultuous 2020 was for everyone on a global scale, we here at The Coin Vault were able to have some positive things happen personally. One of those things was the introduction of the Preferred Customer Division right here on our home turf. Adding new representatives to the mix, it was over just over a year ago that we brought in a small batch of trainees in October that were ready to take on the challenge. One of those representatives you may know as Richie.
With a degree in Theatre Design and Technology from Purdue University and around ten years of working manufacturing positions since, Richie has finally landed in a career that has allowed him to not only showcase his personality, but go deeper into the art of being a collector.
"I'm personally not a collector of coins, but I am a collector of comics, toys, etc," he said. "I have the perspective of a coin collector because I myself am a hobbyist and enjoy collecting. Finding those missing pieces or something you have been looking for for a while is something I can relate to for sure. It's that thrill seeking fix you get used to."
There is no doubt that Richie's perspective helps him with his customers in addition to his drive and competitiveness.
"I'm so competitive that the other day I stayed late just because I was so close to beating one of the other guys for the day," he laughed. "But in all seriousness, I can relate to my customers and I care about their collections as if they were my own."
When it comes to the business of numismatics overall, Richie has found that selling certain items have been more fun while others not so much.
"Selling new stuff, like the new releases from the United States Mint, is something I really enjoy doing," he said. "Knowing that certain customers have been waiting on items and the brand new coins and then calling them to officially offer those items is so rewarding. They get incredibly happy and it's nice to hear it."
The not so fun stuff to sell?
"Paper money," he grunted. "It is so complicated and confusing to me. Sometimes I end up learning more from my customers about it. It just proves that the coin hobby is so vast that it's impossible to know everything about everything."
In the grand scheme of things, Richie has enjoyed his time at The Coin Vault and finds that the career path he chose a year ago has paid off.
"I enjoy my job and I enjoy talking to people everyday about their collections," he said. "It's not hard to get up every morning and come here and be around the people that I'm around and see where the day takes me."
Other than being a collector of comic books, toys, etc., Richie is into gaming and movies. He also enjoys spending time with his wife and two children.