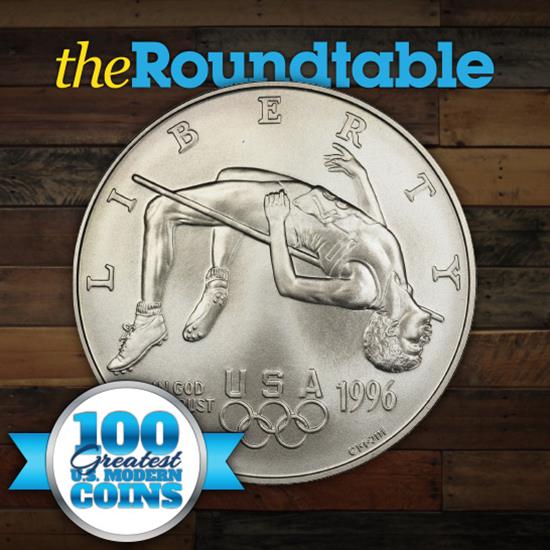 Next in our series covering Whitman Publishing's fourth edition of their 100 Greatest U.S Modern Commemoratives, we take a look at one of the few coins to come from the 1996 Olympic Games. While authors Scott Schechter and Jeff Garrett help guide us along, we will dive into one of the instances that makes a coin rare that starts off being what is considered a "flop" and turns into a treasure.
#75 - 1996-D Centennial Olympics (High Jump) Dollar Commemorative
The high jump has been an event in the summer olympic games since 1896. While not thought of as one of the more popular sports depicted in the 1996 Olympics commemorative coins series like swimming or cycling, it is one of the many events contested in the games in addition to other jumping events such as long jump, triple jump, and pole vault. With that being said, it is thought that one of the reasons the high jump in particular was chosen to be represented in the commemorative series was because of its design alone.
Designed by Calvin Massey, a former staffer of the Franklin Mint, the seventy-year-old at the time had already created a number of medallic designs and was well known for his bas-relief and paintings that portrayed African-American women. The coin's obverse featured an African-American female in mid jump as she was performing the "Fosbury Flop," a technique made popular by Dick Fosbury in the 1968 Olympic Games. The design is thought to be pleasing to the eye as the athlete arches her back as her legs dangle on the opposite side of the bar. This position follows the arc of the coin in addition to the inscription "LIBERTY" featured above that also matches her shape. The USA and Olympic rings can be seen below her.
While the design composition was surely masterful, it could not help the sales of the coin which happened to be the case for the entire 1996 Olympic commemorative series. Originally authorized for 1,000,000 coins, the High Jump commemorative was then lowered to just 500,000. This did not do much to spur sales and in the end, just 15,697 coins were struck from Denver. The Proof version did better with 124,502 sold. Today, the 1996-D Olympic High Jump Silver Dollar is one of the most valuable of the series.
The coin has moved down since the first edition of this publication as it started at #66.