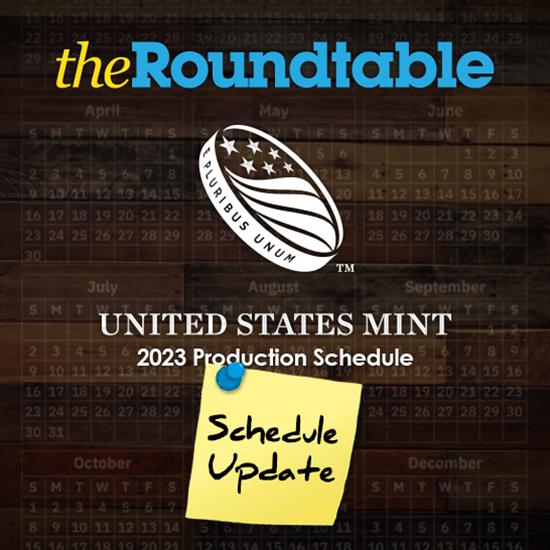 Last time we ran through the 2023 Production Schedule from the United States Mint, we left you with information up until the end of February. Not only do we have some more updates since we last shared those details, we have more "nailed down" dates and upcoming products for the Spring.
While it was first announced that the 2023 Proof American Silver Eagle from West Point, in addition to the 2023 Congratulations Set, was supposed to be a release at the tail end of February, the Mint has since moved that date to the 2nd of March. Retail pricing and more details have yet to be announced other than the household limit for the One-Ounce Silver Proof American Eagle will be 25 and the Congratulations will be limited to three.
On March 6th, the next in the Armed Forces 2.5 Ounce Silver Medal Series will be released. Featuring the Army, the medal will come from the Philadelphia Mint and have a household limit of just one.
Towards the middle to end of the month, the 2023 American Women Quarters Proof Set will be released. Struck in San Francisco, the coins this year will honor Bessie Coleman, Jovita Idar, Edith Kanaka'ole, Eleanor Roosevelt, and Maria Tallchief. A week later, the single release of Edith Kanaka'ole will be available from Denver, Philadelphia, and San Francisco in rolls and bags. It will be the second release in the series for 2023.
Rounding out the month of March on the 30th, the 2023 Proof Gold American Eagle coins will be available in the four-coin set and individually. Struck at West Point, retail pricing and mintages have yet to be given.
A number of products have been marked for Spring 2023. Some of those products include the Abraham Lincoln Presidential Silver Medal, One-Ounce Gold Proof American Buffalo Coin, One-Ounce Uncirculated (Burnished) American Silver Eagle, American Innovation Dollar featuring Louisiana, American Women Quarters Silver Proof Set, and the Kennedy Half Dollar.
As always, stay tuned for more information and updates on the 2023 schedule as they often change.
Source: United States Mint