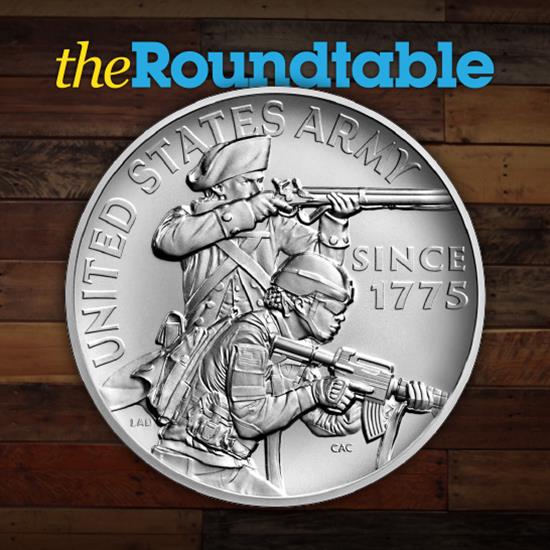 The United States Mint is ready for their next release in their 2.5 Ounce Armed Forces Silver Medal Program. Beginning at 12pm EST, a medal honoring the United States Army will be available.
Struck in 99.9% silver, the medal is comprised of 2.5 Troy Ounces and measures two inches in diameter. Minted at Philadelphia, the medal features a matte finish and is limited in mintage and product to 10,000.
Depicted on the obverse design are Continental and modern soldiers "at the ready" with weapons from their respective era. "UNITED STATES ARMY" and "SINCE 1775" are inscribed on the upper rim and to the right of the soldiers. The reverse design features the seven core values of the Army to the left: "LOYALTY," "DUTY," "RESPECT," "SELFLESS SERVICE," "HONOR," "INTEGRITY," and "PERSONAL COURAGE." The U.S. Army flag is seen to the right with streamers listing major battles including but not limited to "APPOMATTOX 1865," "LEXINGTON 1775," "ABEYANCE 2014-2015," "TET COUNTEROFFENSIVE 1968," and "LUZON 1944-1945."
The 2.5 Ounce medal will retail at $175 and have a household limit of one.
United States Mint